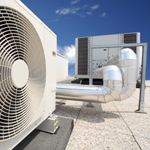 The Commercial Department at Kemppel Heating and Cooling LLC is here to serve all your needs, from light commercial to industrial HVAC applications. We are a company that is committed to excellence in every aspect, from installation to service to customer care. Give us a call and let us take care of all your commercial needs.
Heating and Cooling
We have over 30 year's experience installating and servicing of all types of commercial HVAC equipment, including:
Commercial Rooftop Units
Commercial Split Systems
Commercial Boilers
Heat Pumps
Heat Repairs
Furnace Gas Fired
Geothermal Heat
Radiant Floor Heat
Make-up Air Units
Air Conditioning
CRAC Units (Computer Room Air Conditioning)
Air Purification Systems
Ventilation Systems
Cooling Towers and Chillers
VAV Systems
Temp Control Systems
Exhaust and supply fans
Make-up Air Units
Clean Rooms
We offer maintenance services and agreements for all brands and types of commercial systems.